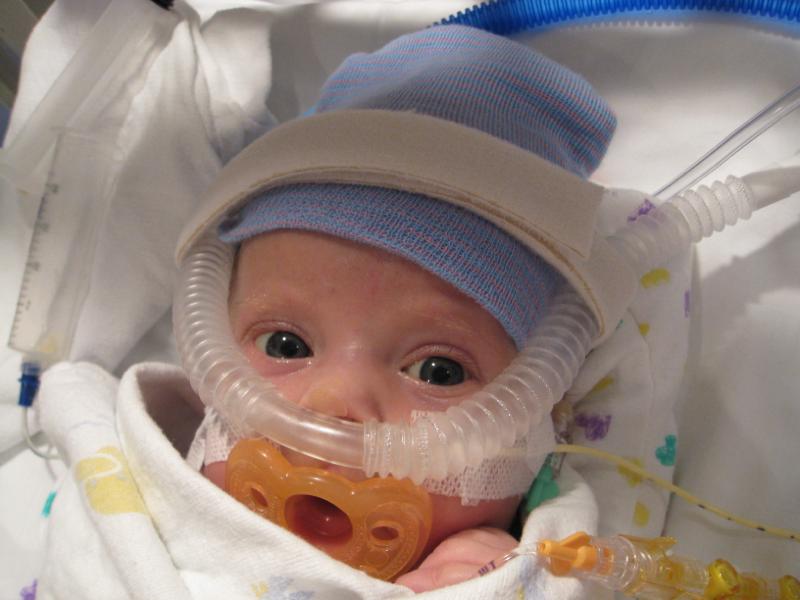 Ella is doing better today. We can just feel it overall compared to yesterday. As much as she doesn't like the CPAP headgear (we don't either), it's doing her good and providing the support she needs.
Our girl surprised us with another milestone today…she is sucking on a binky. This is something that we have tried many times in the past, but she has never taken to it. It usually has made her gag, but not today. Ella gets most of the credit in this success, but some if it has to go to Nurse Kelly who has such a magic touch =). We're hoping that it's a good sign of her taking to a bottle in the future.
We're beginning to realize that Ella is not as fragile as she has been in the past. Many times early on, stimulation could send Ella into a bad downward spiral. Now that she is older and is overall in a better place, we are looking forward to being more "hands on" with her.
We both have spent a good amount of time holding her today. Something that we need to get better at is our confidence in handling our girl. We had been trained earlier to minimize our interaction with her, but now it is getting to a place where we need to interact more. It is hard to "undo" the training, but hope to gain more confidence with each passing day.
We will see how Ella progresses this week. Hopefully it won't be too long until she has a chance to try breathing without CPAP.
Par, Ella's roommate, is making good forward progress and has been able to avoid ECMO so far – – Praise God!
Your continued prayers for Ella and company are so appreciated.
Thanks to all of you for the love and support during this extended journey. We praise God for bringing us here and for blessing us through all these circumstances.