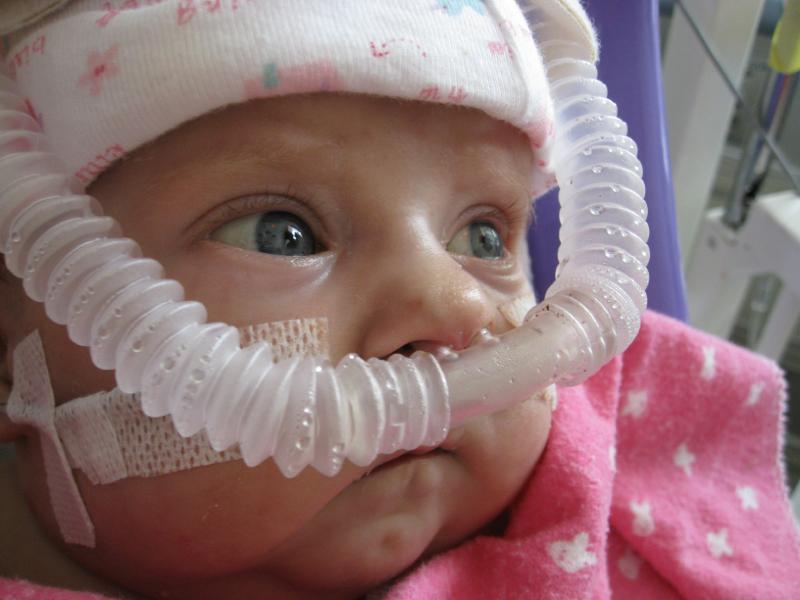 One Hundred and Ten Days. Even seems long spelled out.
The last couple days have been a bit more difficult for me. It so hard to see my baby girl when she's not comfortable. Her nose is so raw from the CPAP cannulas that she fights to keep it on sometimes.
Ella's nose will tend to get real snotty too, which reduces the effectiveness of the CPAP. Suctioning resolves the issue temporarily, but it also make the problem worse too. The more she's suctioned, the more secretions occur…a vicious cycle.
I didn't go see my girl on Friday night. I let Kerri and Tina spend time with her and I escaped into a movie. I missed seeing my girl, but I needed a break.
We all went to see Ella today though and she looked ok. Tina and I both took turns reading her a story, and the Bun was enjoying it until the CPAP started bugging her. Her pulse and breaths per minute have been elevated while her saturations have been in the mid-90s, an indication of her discomfort overall.
We ran into Dr. Kays today. He tries to give himself a break on the weekends unless he's on call, but there are some other critical CDH babies that he's committed to taking care of which is why he was in the NICU.
We talked to him about Ella's current state and asked his opinion about where we stand. He indicated that he would have a better feel of our direction if her stats were solid, but because she's not doing as good as we would like at the moment, he's not sure.
Dr. Kays thinks that Ella's current not-so-great state might be caused by her increase in fluids (not chest fluid, but too many fluids in her blood). So, he wrote an order to increase her lasix (a diuretic). The fact that that our girl is not throwing up so much is a good thing, but she could also be refluxing without throwing up.
To confirm this, he's ordered that an upper GI be performed next Tuesday. Hopefully we'll get a good picture that indicates the severity of Ella's reflux.
Something that Dr. Kays recommended is that we consider pro-actively performing a surgical procedure to minimize Ella's reflux. There is only a small chance that Ella is not going to have any reflux issues, almost all CDH babies do. Considering the severity of Ella's CDH, the fact that she's been there 110 days, and that her reflux may be directly impacting her lungs from getting better, are reasons he is recommending this procedure.
Another major concern is Ella possibly aspirating her stomach acid during a bout of reflux. This could have devastating affects on our girls lungs, and this operation would greatly minimize that risk.
We've not committed to anything yet, and we'll look to the results of the upper GI to see where we stand. Ultimately, we just want to do what is best for Ella. We just need to pray and ask for wisdom before we make any decisions.
I started my day by reading the book of James. The Lord really spoke to my heart with the following verses:
James 1:2-4
2 Dear brothers and sisters,[a] when troubles come your way, consider it an opportunity for great joy. 3 For you know that when your faith is tested, your endurance has a chance to grow. 4 So let it grow, for when your endurance is fully developed, you will be perfect and complete, needing nothing.
Praise the Lord for his living Word. Thank you for your continued support in prayer.
God Bless.