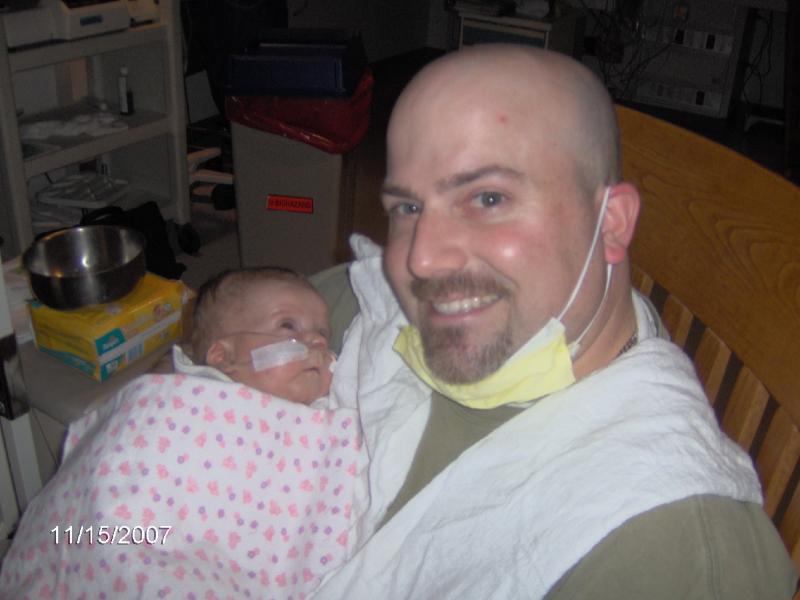 Yes, Ella and I get to have some one on one time. It was real good too. I was able to hold her while she was on the regular oxygen cannula. This is a lot easier to manage then when she's on CPAP, even with all the other wires and tubes.
Ella is doing well today. She's tolerated the "sprinting" so far. Just having 6 hours at a time off CPAP is a nice break.
We did get the results back from the upper GI, and it does look like her reflux is more on the severe side. This is to be expected, we were just hoping for other news.
We have not talked to Dr. Kays yet regarding the details, but I'm sure his opinion remains the same. We prayed for a clear indicator as to what direction we should take, and we consider this a pretty strong sign to go ahead with the nissen procedure and G-Tube.
While it's not 100% official that we'll be going down this path, it's most likely the direction we'll take. We know this will help Ella along with her progress and minimize the risk of infection due to aspiration.
On a positive note, this procedure could also help move us along quicker, allowing us to be home sooner. We're in no rush though. We just want the best for our baby girl.
Some other good news, Ella was given a tiny bit of breast milk today by mouth! Now it wasn't the best experience ever, she was a bit gagy, but the fact that they're even trying this is encouraging. She's still on her full feeds of portagen, so she won't be missing any of her food.
I'm also feeling better today. I was wearing the mask as more of a precaution, but Ella kept looking at me funny, so I took it off a couple times to reassure her.
Tina is out of town until tomorrow night. She accidentally took both of our cameras with her so I had to rely on the camera they had in the NICU for our update. I'm just glad they had one here that I could borrow so we could have pictures to show. =)
Bun and I are missing Mom already, and we'll be glad when she's home.
Tracy Mitchell and her two boys will be coming down to visit tomorrow. We're looking forward to seeing her again. We pray for her safe travels on the highway.
Lord, thank you for being with Ella tonight. We trust in your perfect plan, and we praise you for the privilege of having our baby girl well enough to take these next steps. We ask for wisdom and discernment in the coming days so that we may do what's best for her.
We continue to pray for baby Par and Jonathan, and their respective families. May your peace be with them this evening.
Also keep the Mitchel family safe as they take the long 9 hour drive to Gainesville. In You Holy Name we pray. Amen.