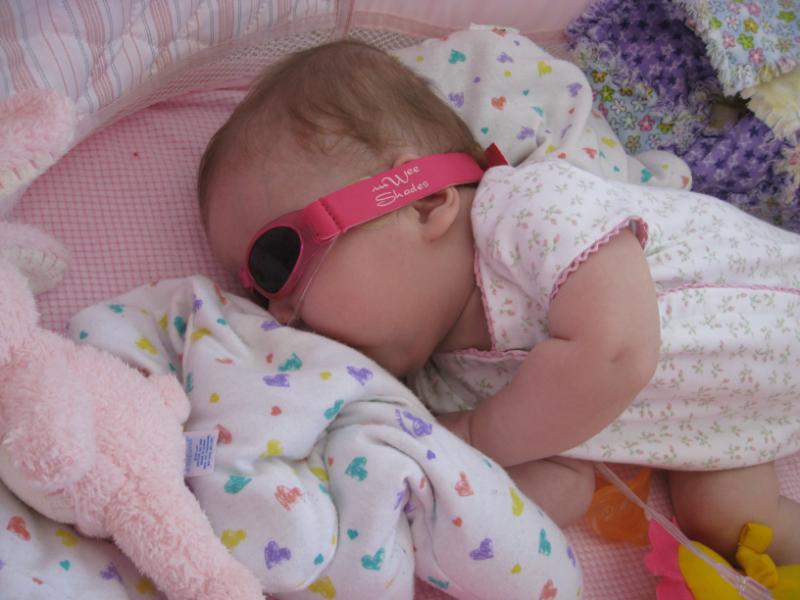 …so I can…so I can…watch you live and breathe your story lines.
Yeah, the Corey Hart song was definitely in my head today. I took Ella for another walk in the Baby Bjorn, sporting her sunglasses. By the time we came back into the apartment, she had fallen asleep. So I just laid her in the crib, sunglasses and all! The sunglasses fasten with velcro around the back side of her head and trying to remove them would have caused too much commotion. She looked way too cute sleeping with sunglasses.
Ella had a great night of sleep last night. She only woke up about 5 times total. I would give her what she wanted and she would just roll over and go back to sleep. That was a blessing for me. Hey, at this point, even 7 hours of slightly interrupted sleep is amazing!
We are having a nice break from the flurry of doctor appointments this week. We have simply been at home trying to help Ella gain weight while doing our feeding and physical exercises. It has been great to not have to go anywhere. Tomorrow we have a occupational therapy appointment, but the OT comes to the house, so that won't require a "trip" with Ella.
Next week will be busy with 2 physical therapy appointments, an OT appointment as well as the pediatrician appointment for her check-up and synagis shot. So it will feel busy again!
Today, Ella finally tolerated her swing. We purchased it weeks ago but she would get fussy after a few minutes. I think the sitting position would get uncomfortable. I think our chair exercises are helping. I didn't take a picture, but she actually fell asleep while it was swinging with music.
Ella is starting to get granulation tissue around her g-tube again. It seems like we have been able to keep it away for about 3 weeks. It isn't bad right now, but it will be ready to be burned off by the time we see Dr. Kays on April 22nd.
Ella had a visitor today. Sara came over to see her again. Unfortunately, the stranger anxiety kicked-in early on the visit. So Sara stayed afar and watched Ella, making sure to give her space. During the visit, it was time to eat! It was actually Ella's best feed for the day; she took 40ccs total. That is great too considering that Sara was standing there talking to me and watching Ella. If you remember, last week the OT was watching Ella and she decided to have a meltdown! Hopefully tomorrow will be a better session.
Well, we officially got an appointment with Dr. Steve Abman in Denver at the Children's Hospital. I'm very excited that came through for us. Now, we still need a really good pediatrician. Ideally, it would be someone close to our home. However considering Ella's health situation, I'm willing to drive.
I placed a request online to the ParentSmart Line at the Children's Hospital to see if they can advise on a primary care doctor. Maybe there is a doctor affiliated with the hospital that would be perfect. The main need is a doctor that can help with all of Ella's various health issues, give a referral if they do not have expertise in a specific area, as well as help to coordinate appointments with other specialties.
I am getting ready to start the process for the occupational and physical therapy search. Our ideal situation would be to have care provided in the home. Each state has an Early Intervention Program that is federally funded. I need to schedule a time where they can evaluate Ella, so they can assign a service coordinator that will come out to our house and go over the whole program.
Our hotels, rental car, flights, and all those types of details are already booked for the trip home. Grandma Eusey even has her plane ticket to Denver, so she can be ready to help upon our arrival!
In looking at the calendar today, the time to leave is going to arrive sooner than we know it. The countdown is only 44 days until Josh makes the first trip to Denver and 47 days until Ella leaves Florida for the first time!
Here and there, it hits me. I'll read one of your comments, or tell Ella's story to a stranger and I'm humbled by how God has used this painful time to bring glory and honor to Himself. I can't believe that God chose us to be the parents of Ella and that we came all the way to Florida to deliver our baby girl. In addition, that all of you have decided to follow our journey and provide friendship and support, beyond anything we would have ever imagined.
We're so thankful.
1 Samuel 2:1-2
Then Hannah prayed and said:
"My heart rejoices in the LORD;
in the LORD my horn is lifted high.
My mouth boasts over my enemies,
for I delight in your deliverance.
"There is no one holy like the LORD;
there is no one besides you;
there is no Rock like our God."