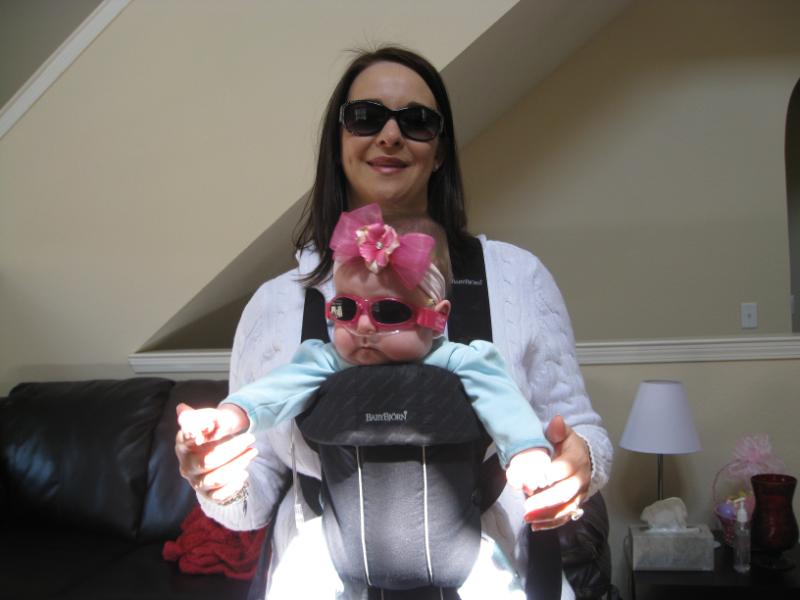 Ella and I went on another walk around the community today. It was another California-esque day in the mid-70s, so the weather was perfect. She sported her headband and shades…way too cute.
This afternoon, Ella had a physical therapy appointment. It was good to start up again. The PT noted how much Ella had strengthened, even over the past few weeks since she first saw her. That was reassuring. We worked on more neck support exercises. The session went a bit longer (45 minutes) and Ella did great through the entire session. Right at the end, the PT lifted her out of the chair and had her sit up. At that point, Ella had a meltdown. She was tired and did not want to work anymore. Based on the few sessions that we have had up to this point, it was great to hear that the PT thinks that Ella will continue to make tremendous progress over the next several weeks. She noted that we will likely not recognize her in a few months.
Another new thing today: I tried feeding Ella bananas. Unfortunately, she did not like them. Her response was similar to that of the sweet potatoes. So although she LOVES monkeys, she is not into bananas. Bummer! Oh well, we know that she likes pears and we will simply have to buy some other fruits and veggies for her to try in the coming days.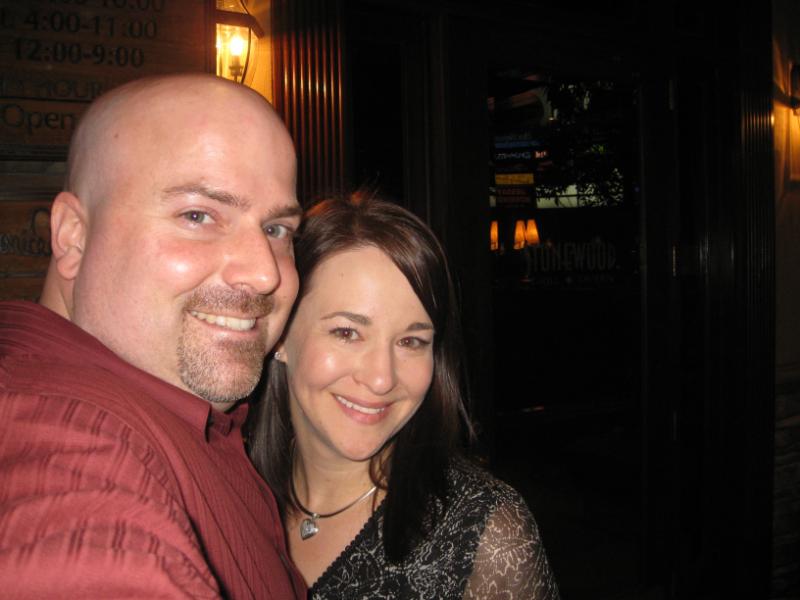 Today was our 13th wedding anniversary. Wow, time flies!
Tonight, Nurse Michelle came over and watched Ella so that we could go out to dinner together. That was so sweet of her – – we had such a great time.
Our friend Sara made sure we were taken care of for this special day! Her husband Matt works at a really nice restaurant in town. Complete with wine, steaks and dessert, we enjoyed every moment. From the time we walked in, there was a table reserved for us. Then, Matt wanted to make sure that I enjoyed my glass of wine, so he let me taste several to make sure it was one I liked. At the end, Matt told us that everything was settled. Wow…that was too nice. We knew that we would have a chance to meet Sara's other half at the restaurant, but had no idea that we would be treated like VIPs. His only request is that we entertain him and Sara, if they decide to visit Denver some day. Yeah, I think we can make that happen.
Also, even though Ella was fussy for most of the day and into the evening when we left, it was nice that we had no concerns about leaving her. When you have NICU nurses that love Ella and took care of her for months in the NICU, there is not much concern leaving her with one of them. Administering meds, feeding via a g-tube, monitoring oxygen, etc. is all second nature. That is such a relief and makes for a worry-free time.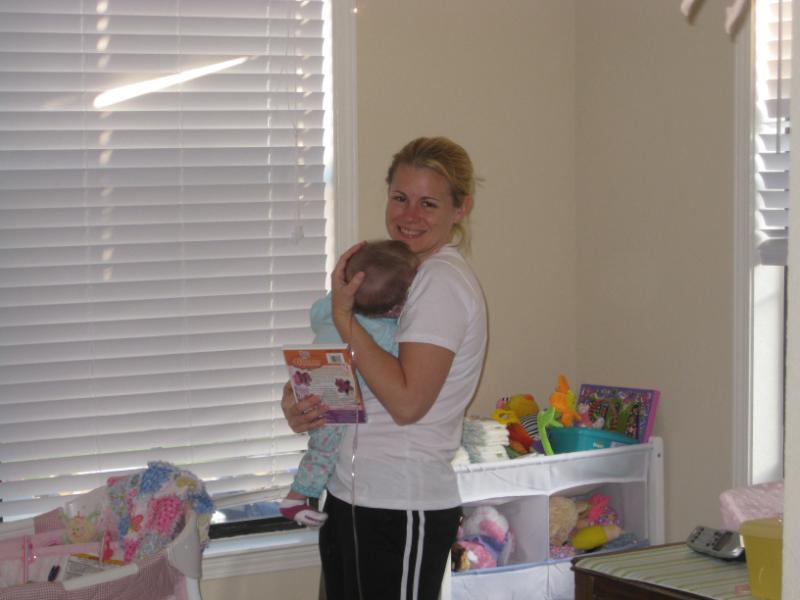 It is not likely that we will get breaks like this anytime soon, not even in Denver. Although we have lots of friends that love us and the Bun, she is complicated and a handful for someone that doesn't have experience with her and her medical issues. This just meant that we appreciated and savored every moment tonight.
It is hard to believe that we have been together for nearly 18 years and married for 13 years. We have been through so much together, but this past year with Ella tops it off. I can't imagine going through this journey with anyone else. And to see what God has done in our lives and how He has worked!
On this day, we praise Him for our marriage and our baby girl.