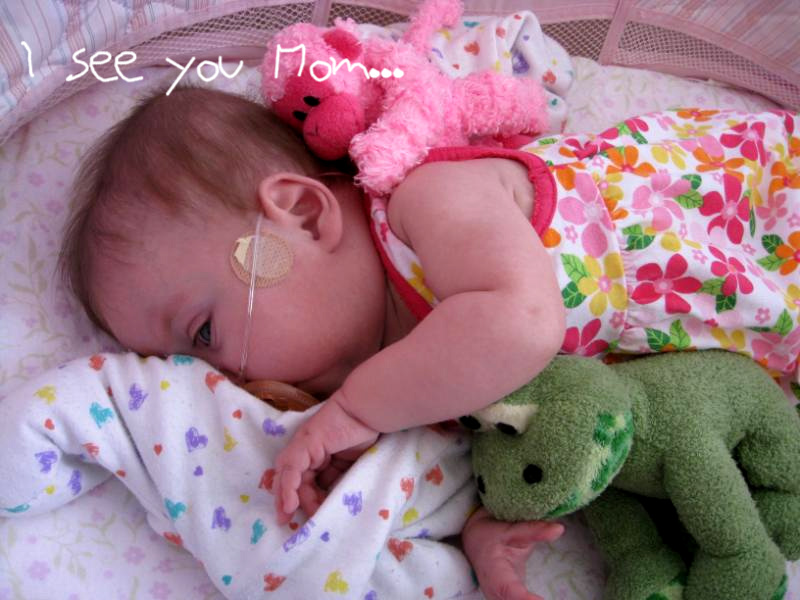 Today was a better day for Ella; she was not as fussy.
We tried to take a walk together, both of us sporting shades. Although it was short and sweet because it was incredibly hot outside. Yes, the "cold front" of 70 degree weather days has passed in Florida. So, the mid-to-upper 80s today made it a bit on the warm side. We are hoping for cooler days for the remainder of the time we are here.
Ella is still having lots of congestion. I had to use saline drops a handful of times and suction her nose. She was running a bit warm, so Tylenol and a sleeveless dress seemed to do the trick.
This is my new thought on the elevated heart rate: I think she is having a tougher time breathing through her nose, so her breathing is more labored and her heart is working harder.
Her congestion was apparent when we were bottle feeding during the occupational therapy session. She stopped more frequent than normal just to breathe. In a normal scenario, she might flare her nostrils more. But today, she would break away completely and breathe through her mouth. After she had taken 20ccs, we stopped the bottle feeding. She was enjoying it, but working so hard to make it happen.
Instead, I ended the feeding session by going to the fridge and grabbing the pears. The OT had not seen Ella eat any baby foods. He suggested it last week which prompted us to try pears, but this was his first time to watch her. She did fabulous. As she has done this entire past week, she got excited and kept opening her mouth to indicate that she wanted more. The OT was impressed and noted that her skills with baby foods are better than her bottle feeding skills.
Later in the day, I decided to expose her to apples. We had a smaller jar. I tasted them and thought they were pretty good and tasted very similar to pears. I was almost sure she would be receptive. Sure enough, she liked apples too. As a matter of fact, I think she may have liked them more. Hey, an apple a day can keep the doctor away. We like the idea of that around here.
By the time her 6pm feed arrived, she had already finished the small jar of apples. So, I decided to open the sweet potatoes. I was so curious as to how she would respond, considering her progress. This was a different brand than the first sweet potatoes she tried. Luckily, she liked them too. Heck, the only food that she has not liked this week was the bananas. However, I tasted the bananas and thought they were nasty, so I can't blame the Bun.
Now, we have to branch out in a few days and try some other veggies. Keep in mind that we are not currently allowed to mix foods or give her mixtures, which might make things a bit easier. We have to stick with single foods. So, I'm sure she would love to stick with just apples and pears, but I instinctively know we should balance it out with veggies. This will be one of the main topics of discussion with Dr. Kays. Since we saw him last, we have not only successfully added corn oil to her nightly feed. But now, she is really digging the baby food. We need to make sure with her intake restrictions, that we are giving her the optimal calories and nutrient balance.
We're still working out the exchange of durable medical equipment. It is supposed to happen next Thursday. Hopefully, the transfer of service will be smooth.
We have found 2 options for a primary care provider. We are trying to decide between the two options. If the decision does not become clear over the coming days, we might make appointments with both doctors and decide once we meet in person. We are praying for clarity since this person will be so instrumental to Ella and her forward progress.
It's so good that we can boldly approach God and ask for His help, with anything that concerns us.
Thanks for the continued support and prayers.
Hebrews 4:15-16
For we do not have a high priest who is unable to sympathize with our weaknesses, but we have one who has been tempted in every way, just as we are—yet was without sin. Let us then approach the throne of grace with confidence, so that we may receive mercy and find grace to help us in our time of need.