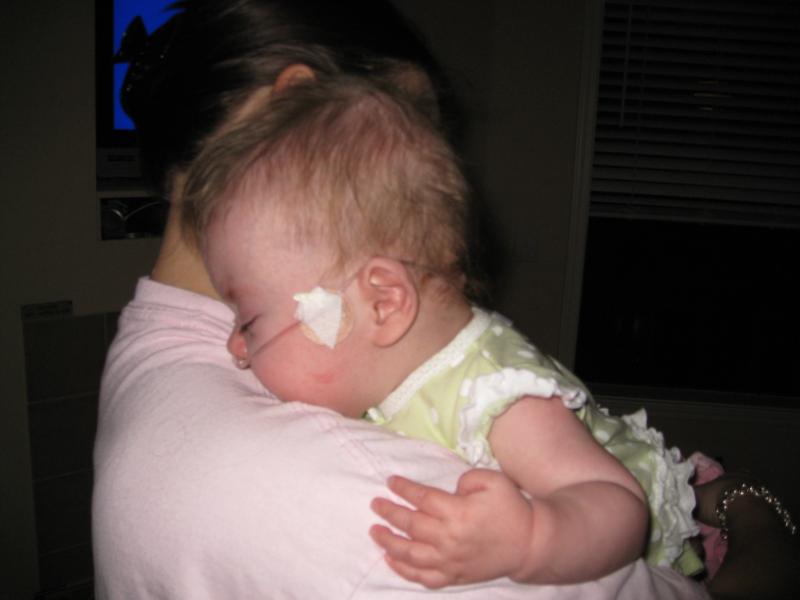 The picture says it all. Ella had a busy day.
She had her longest / best PT session ever with her new therapist that came to our apartment. We'll miss seeing Claudia on a regular basis, but we're very excited to have Ella getting in house PT sessions 5 days a week!
It was a GORGEOUS day here in Gainesville (just like the photo gallery below). There was no way we could stay in for lunch so we headed over to the Tioga Town Center so Ella could enjoy the fresh air.

Tioga Town Center
We sat at one of the tables outside of Starbucks. Very comfortable until a couple people around us began to smoke (bleh). Besides the fact that Tina and I are not fond of being around it, it can be incredibly detrimental to Ella. So, when people would start smoking Tina would take Ella for a walk until the air cleared.
While there, we ran into one of the respiratory therapists that took care of Ella in the hospital! What a great surprise to see her. She had mentioned what a funny coincidence it was because just yesterday she was looking at our blog with some other NICU nurses. So great to know that Ella has her fans checking up on her in the NICU :-).
Tomorrow will be an exciting day. A close friend of the Boemler Wareings, and a HUGE Ella fan is coming from three hours away with her husband to bring us lunch! Is that crazy or what!!! She's been following Ella's story since last October and wanted to meet her in person before we leave the state.
We feel so blessed to have all these people around the country (and globe!) that love and care for our baby girl.
Thanks to YOU for being one of Ella's fans. We love all of you.