When I left for work this morning, Bun had already started her day…in her swing. It was good to see her in it again – she hasn't used it since we moved.
Starting at 9:30am, Ella has PT on Monday mornings. It sounds like they had a good session and that she was having fun.
Her main ailments today: itching her nose and still retching a lot. Seriously, it is like it was before her recent hiatal hernia repair surgery. I'm hoping and praying that it is not that serious of a condition and that it is a short term thing, like maybe she is too wet or the secretions from teething are the culprit. Only time will tell.
We gave her only 1 dose of diuretic today, in the hopes that we can get her on a maintenance plan that will work.
Kelly is making sure to give her more time in her seat each day. This is really helping to build her overall strength.
Tonight, Benadryl cream gave some relief to her itchy nose. Thank goodness! And even though she was retching quite a bit, she found some comic relief in one of her favorite Baby Einstein videos. Gotta love that smile. That is going to carry me through the week!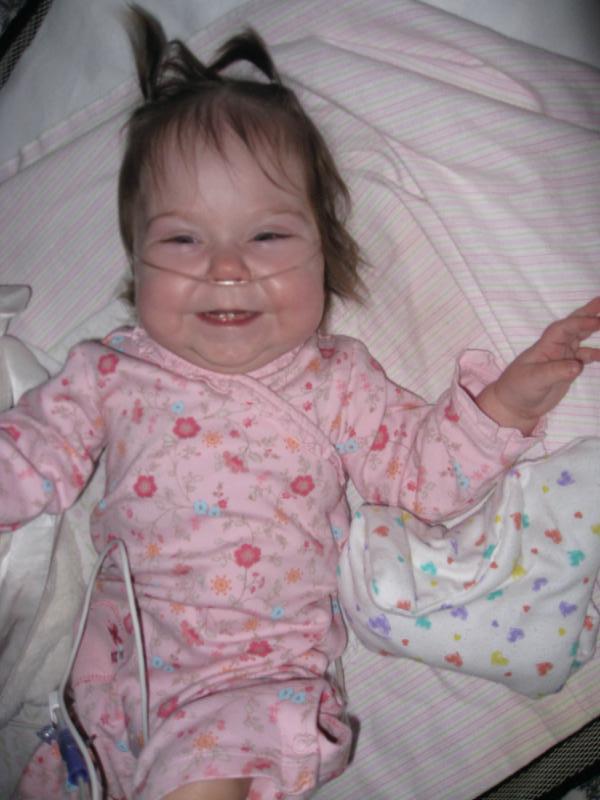 Speaking of this week, please say a prayer for me, Josh and Kelly. I have my first business trip this week in Las Vegas. I will be gone Wednesday through Friday. The Bun, her Dad and Kelly will be on their own! For me, it is a great trip where I will have a chance to reconnect with a lot of my friends in the industry. However, I know that my contribution as far as taking care of the Bun will be missed, especially from Josh on the overnight shift. Just pray that everything will go smoothly and that Ella will start feeling better.
Romans 15:13 (New Living Translation)
I pray that God, the source of hope, will fill you completely with joy and peace because you trust in him. Then you will overflow with confident hope through the power of the Holy Spirit.