The morning was relaxing and quiet as the snow continued to fall. It was pretty to look at, but it also presented a clear danger in driving home. We knew that it was going to take a long time, but we had no idea what was in store.
The first part of the drive that should have taken about 20-25 minutes took 3 hours. It is a gradual uphill climb to the highest altitude on the drive. Not only had the snow been falling continously, but there were so many cars on the road. It was like a parking lot. Because there were so many cars, the plows couldn't clear the roads adequately to keep up with the snowfall.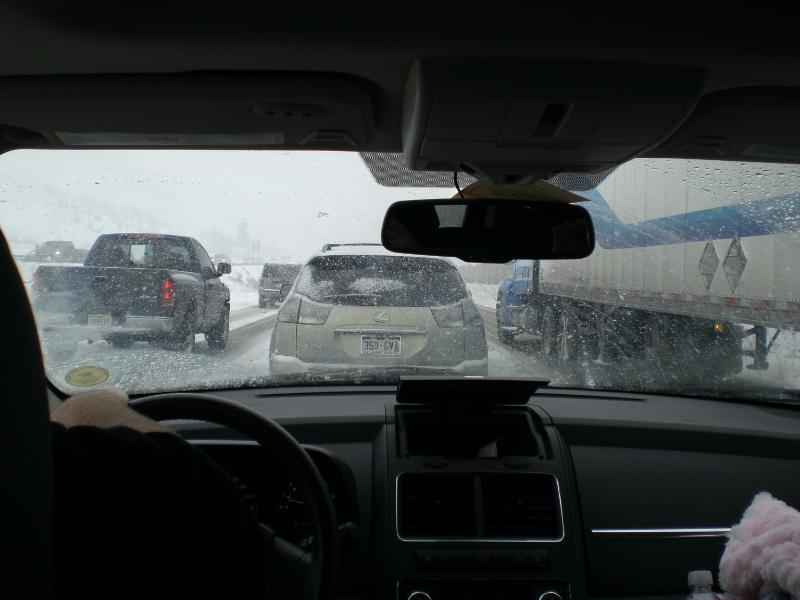 Many people were driving vehicles that were not suited for the winter driving conditions. Even those with four wheel drive were still having challenges. Since it was uphill, it presented an even greater obstacle. In that situation, momentum is your friend. Too many cars would stop completely and then would try to start and were sliding around the road and blocking lanes. Their tires would not grab the road. You could smell brakes and clutches burning. It was a scary drive. Everywhere around you, cars were sliding around. Josh was trying his best to keep the car moving and avoid other drivers.
Once we got to the Eisenhower Tunnel, it became a downhill drive. At first, the visibility was so limited. The wind was blowing the snow around so hard that you could barely see the tail lights of the vehicle in front of you. We were not having the issues of cars spinning out, but the road was icy and the visibility was poor. From this point in the drive, everything went smooth. We took our time, but it was not scary like the first three hours of the drive.
It was hard with Ella. For the first part of the drive, she did well. But after an hour, she became fussy. She does not like her car seat. It is not that comfortable. She was just bored and there was only so much I could do to entertain her. The movement of the car helps, but since it was bumper to bumper traffic, the car wasn't moving all that much. Finally, I grabbed her DVD player. I was leaving it as a last resort. We did not have the plug for the car, so it was on batteries. We knew that batteries would not last long. But when I could not get her to stop crying after trying and trying to console, I distracted her with the DVD player. Thankfully, the batteries lasted longer than we imagined and by that point, the motion of the car was back as we headed home.
When we got down the mountain, we discovered that it had been snowing in Denver too. As I type this post, there is snow outside covering the rooftops and trees, and the temperature is 21 degrees. Chilly.
It was so nice to have a getaway weekend. It is a lot of work to pack up everything for Ella, but well worth the change in scenery. I'm not sure when we will be able to do it again, but it is so nice to know that we can go have that time as a family. And yet at the same time, it is nice to come home.
Work starts up again tomorrow. I'm hoping the roads are more clear for the morning commutes. Nothing is worse than it taking 2 hours to drive to work. Kelly is buried in snow down in Colorado Springs (16″ of snow today). Instead of driving back tonight, she is going to come early in the morning. Please pray for a safe trip back for her.
James 1:16-18 (The Message)
So, my very dear friends, don't get thrown off course. Every desirable and beneficial gift comes out of heaven. The gifts are rivers of light cascading down from the Father of Light. There is nothing deceitful in God, nothing two-faced, nothing fickle. He brought us to life using the true Word, showing us off as the crown of all his creatures.