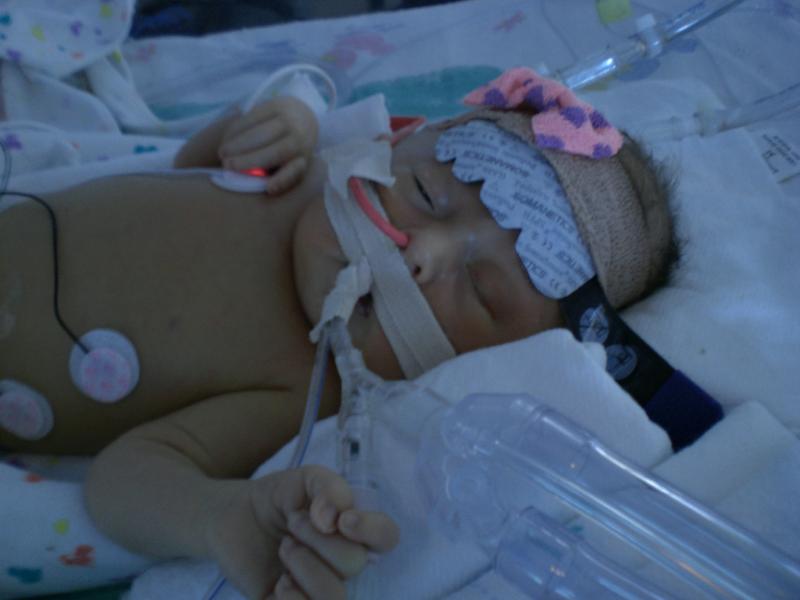 We arrived this morning at 6:30am EST to spend some time with Ella before surgery.
Apparently, she had a rough night. She was awake and restless, which made her stats drop significantly. The staff was not as successful in calming her down, so they had to use the paralytic medicine.
By the time we showed up, she had just started to calm down and was sleeping. We did not want to interrupt her and sat to the side just holding our breath and staring over at our little miracle. In between, we were praying, surrendering our little girl over to His care, asking for His peace and proclaiming His promises.
It is 8:15am EST and we just shook hands with Dr. Kays as he kicked us out of her room! He walked in fresh with a smile and said, "Okay, we are ready!" He took the cover from her eyes and shook her on her chest to greet her. Then, he told us to give her a kiss because "it was time".
They are prepping and sterilizing her room for surgery. It is amazing that they perform the surgery right in her room. We are told that surgery will take anywhere from 2-4 hours, depending on how it goes and what he encounters during the surgery.
Thanks so much for your support and prayers as we continue on this journey with Ella. All of you are very special and dear to our hearts.
Romans 15:13 – "May the God of hope fill you with all joy and peace as you trust in him, so that you may overflow with hope by the power of the Holy Spirit."
UPDATE (9:45am EST): Michelle came out to let us know that Dr. Kays just made the first incision. Lord Jesus, we pray your hands upon Dr. Kays.
UPDATE (12:15pm EST): We were just told that Dr. Kays is finishing up and will be out shortly to give us an update.
UPDATE (12:20pm EST): Dr. Kays just came out for a quick update. Thankfully, Ella remained stable throughout the entire procedure. The surgery itself went well. He had to run to another obligation, but said that he will fill us in on the details later. We should be able to see her shortly.
UPDATE (4:00pm EST): We're still waiting to speak to Dr. Kays about the details. We hope to speak to him in the next couple hours.
Ella continues to do ok. Her O2 levels are great, but her cO2 gas has been high so they've been working to reduce it. Her blood pressure is down a bit too, but they're giving her some fluids to bring it up.
You wouldn't know how well she's doing by looking at her though. When Tina and I first saw her it was pretty tough. With her current state of sedation and that Frankenstein-esque scar on her side you wouldn't think she would be alive. Only the stats on the machine confirm otherwise.
We'll update again after speaking to Dr. Kays, or if her condition changes. Thanks to all of you for your faithfulness in prayer.