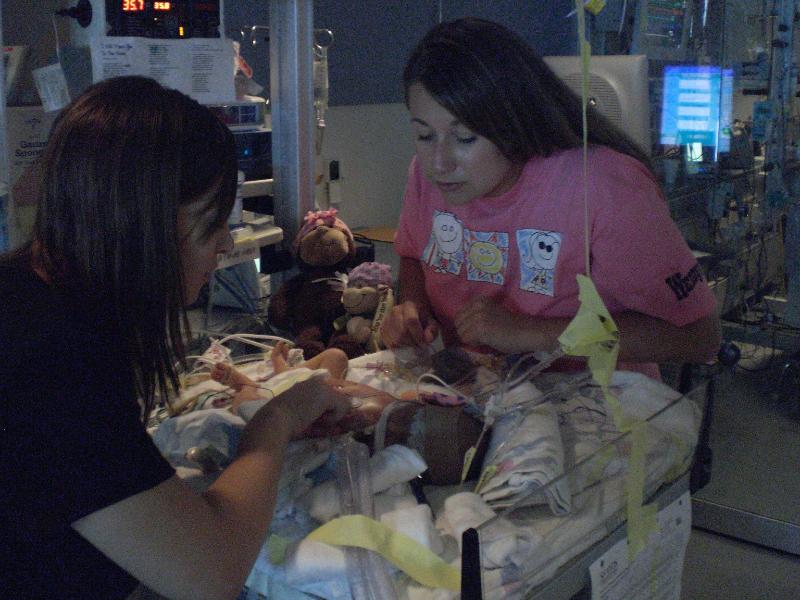 (picture of Tina and nurse Angie watching over our baby girl)
Ella had another good night. Her blood gases have been stable and she's still as cute as ever. At the moment, she has a good amount of fluid build up so she looks pretty swollen. We're hoping the chest tube will give some relief in this area.
We had expected her surgery to be done this morning, but there's been no sign of Dr. Kays. We really hope that he is still planning to work on her today. The sooner those cannulas come out, the sooner she can start being turned on her side and stomach.
UPDATE (1:30pm EST): About 10 minutes after the above post, Dr. Kays walked in a kicked us out of Ella's area so he could do the surgery. We're expecting him to finish up around 3:00pm EST.
UPDATE (3:30pm EST): Nurse Angie poked her head out about 45 mins ago and said that the surgery is progressing well. We're expecting things to wrap up soon.
UPDATE (4:10pm EST): Dr. Kays just came out with his team. Ella's surgery went fine. She did have a little blood loss so they'll be monitoring that. They're also in the process of replacing the arterial line in her belly button which they use to draw blood, give meds, and monitor her blood pressure. They're are also going to take a chest x-ray to confirm the placement of the chest tube and arterial line.