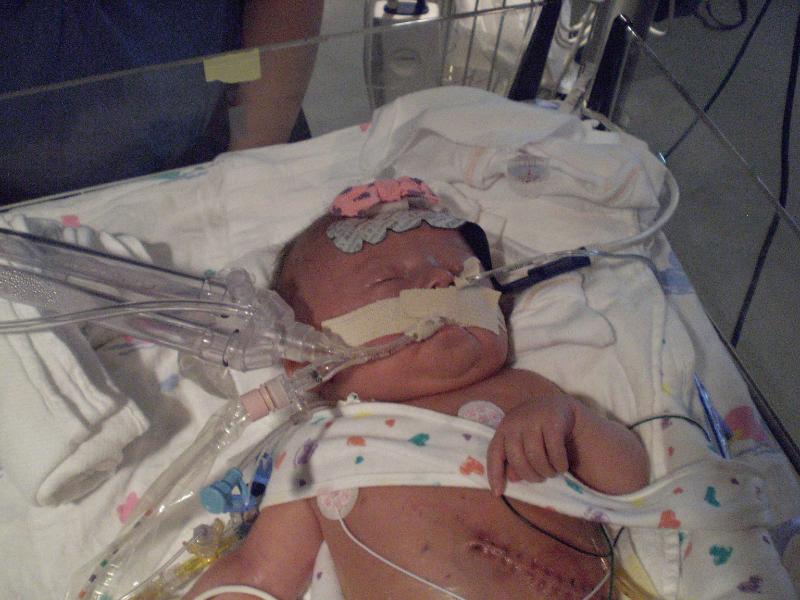 Well, we were hoping for a perfect streak, but Ella had a rough time last night. Dr. Kays and the team are being challenged to manage her fluids. They're having to constantly calculate how much and decide what to put back into our baby girl's body.
Due to the rate of her fluid loss, she risks being dehydrated, even with all the water retention! It's her circulatory system that can lose too much fluid while her other tissues retain it. Her poor little head is really swollen too.
This type of swelling is to be expected, but it's not a good thing. It is also building up in her chest cavity on the right side which is reducing her lung capacity. Dr. Kays is going to be placing a chest tube on her right side early this afternoon. We hope that this will give some relief.
Her cO2 gas wasn't looking good last night either. It was pretty elevated (in the high 50's, should be around 40). They were able to bring this back down this morning after a good suctioning though.
Her other stats look pretty good. Her O2 saturations are doing alright, and her acid levels are in check.
Ella is still very sick though and we need to pray for her to get over this fluid management hump.
Father God, we lift our baby girl up to you and know that you are in control. Please ease her fluid retention and let her stats improve. We also pray for no negative events around the other chest tube being inserted. She is weak but You are strong. Thank you for our baby girl, and the support and prayers of others. She is in your hands Jesus. Amen
SIDE NOTE: Tina's mom made it last night, but her flight was delayed and it took awhile for her to get the rental car. She didn't arrive here until 3:30am! It's nice to have some family around and we look forward to our future visitors too.