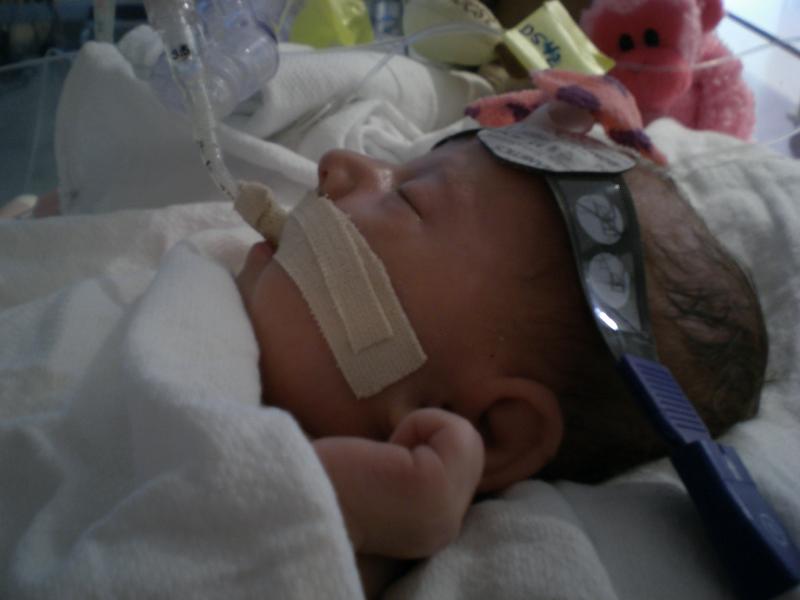 Ella had a good night – – we were at the hospital until 12 midnight just hanging out with her and nurse Janet. She was peaceful and sleeping most of the time. I had a great time just holding her feet and having her grip my hand while she was sleeping. I could have stayed there for hours just staring at her beautiful little face.
We called to check in on her this morning and she continues to do well today. Her stats remain stable and blood gases have been in the acceptable range, given her stage of recovery. We are still waiting to see if her fluid reduction will decrease by the end of the day along with the swelling in her head, based on her SVC procedure being completed. She is continuing to receive heparin to thin her blood and prevent clots in the superior vena cava.
As we mentioned in an earlier post, I was pumping every 3 hours for Ella. During that time, the NICU collected and froze my breast milk. So, starting today they will be inserting the feeding tube and beginning to try feeding some of that initial breast milk from the frozen supply (1 ml every 3 hours). Hopefully, her little body will be able to handle the minimal amount.
Unfortunately with 2 rounds of mastitis, I have lost my milk supply and will not have the opportunity to continue to provide breast milk to Ella. However, at least she will have some of the initial breast milk which is better than nothing!
Ella's next milestone is steady fluid reduction. Currently, the fluid is filling up the space in her chest which is hindering her lungs. Without continual fluid reduction, she won't be able to progress forward.
By the way, Grandma headed home yesterday right before Ella's SVC procedure, but she sure enjoyed her time while she was here!
Thanks again for all the posts. They provide such encouragement, love and support during this tough time. And of course, without your prayers, we know Ella would not be making the progress that she has made so far.
Thank you Lord for our friends and family. Thank you for their tremendous support and encouragement during this time. We ask that you hold Ella in your hands and continue to heal her body.
We also want to lift up a special person today that is receiving surgery. His name is Georgie. Lord, you are the great physician. We ask for no complications and perfect techniques by all the staff performing surgery at MD Anderson today. We pray for complete healing and quick recovery. We thank you for this brother in Christ – he is such a blessing. We lift up his family too, especially his Mom. She has traveled to be with him at surgery time and we pray that she would be surrounded with your love and comfort throughout today.
Once again, we praise you for the blessing of Ella Renae and the opportunity to glorify you in the midst of this storm. Thank you Lord.