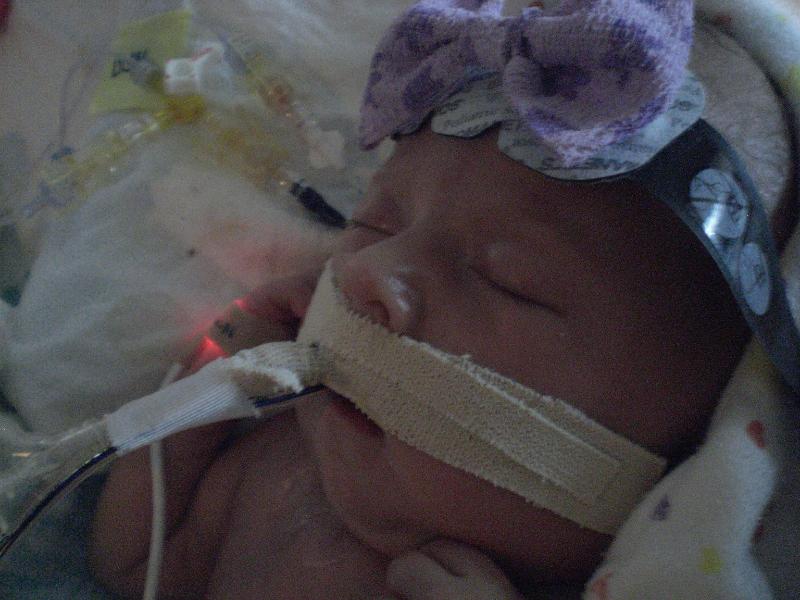 Once again, I'm feeling better about Ella's condition now that I've talked to Dr. Kays.
The good news: Ella did not have any trouble digesting the small amount of Tina's milk, however it did increase her fluid output (the opposite effect of what we want). So for now, the feedings have been eliminated.
Also, he is not overly concerned with the swelling in her head. He feels it does not pose any risk of brain damage or other major issues in the short term, but it does need to be treated.
The bummer news is that it does look like her superior vena cava has collapsed again (SVC syndrome). We had anticipated that this might occur; this means that we might need the procedure done again.
At this time though, Dr. Kays wants to hold off on another invasive procedure, and instead will try using a drug regiment made up of octreotide. This will focus on the overall fluid retention in her body (the medical term for this condition is called chylothorax). Studies indicate that this drug works 50% of the time, and usually starts having an effect after 3 days of use.
Please pray that this drug will work for Ella. There may be other treatments, but this one has very few side affects and is the least invasive.
Other than the SVC syndrome and chylothorax, Ella is doing well considering the severity of her sickness. Dr. Kays is positive about how her lungs are progressing, despite the large amount of fluid in her chest.
Praise God that her lungs are working as they should, and are getting a little better every day.
Thank you all for the continued thoughts and prayers. This burden is lighter when it is carried by so many.