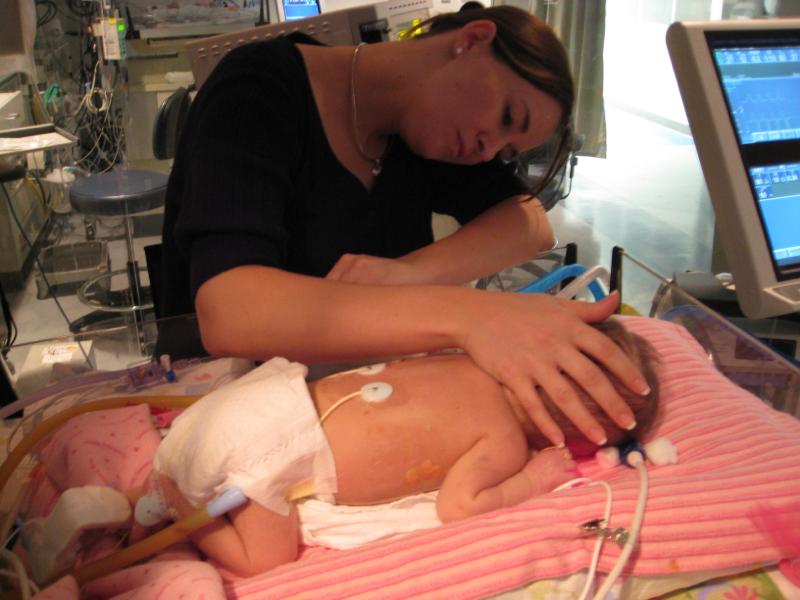 It's 1:30am EST. Tina and I just got home from the hospital. Ella looked good this evening. Her saturations were pegging 100% the whole time she was sleeping. This is real good considering her FiO2 had been weened back to 50%.
Around 4pm this afternoon Ella's nurse called to let us know about the results of the CT scan. Dr. Kays had said that it didn't look like the fluid had re-accumulated around her lungs, and that overall the fluid in her chest looks better. Thank God.
He did notice some areas of collapsed avioli (atalectesis) which is the reason for Ella being put on her belly. They gave her a dose of fentanyl (pain med) and flipped her over.
When we went to visit Ella tonight, we fully expected her to be on her back, but she tolerated being on her belly for a full 8 hours! This is a good thing. Being able to flip Ella over on a regular basis should help her edema and her fluid output. Her lungs will also benefit from the turning as well.
Ella still has a long ways to go, and we still don't know if the fluid issue has resolved. If you remember, the last time she had a significant amount of fluid come off her, she did well for a couple days, but then started down the wrong path again.
It is our hope and prayer that we don't repeat this cycle, but instead, move on to the next steps toward recovery. Even if all goes smoothly moving forward, we're still going to be in Gainesville awhile. At this point, I'm just hoping we're home for Christmas.
As much as we would love to come home right now, we don't want to rush God and get in the way of what He is doing. He has a purpose and a plan for us being out here. It has been evident in the events we've experienced, as well as the overwhelming response from people on the blog.
This last weekend was emotionally heavy. We thank God for bringing us through it and continuing His work through Ella.
Through all the valleys and mountain tops, it is our desire to be obedient to our Father who is sovereign. We trust in Him completely, knowing that His timing is perfect.