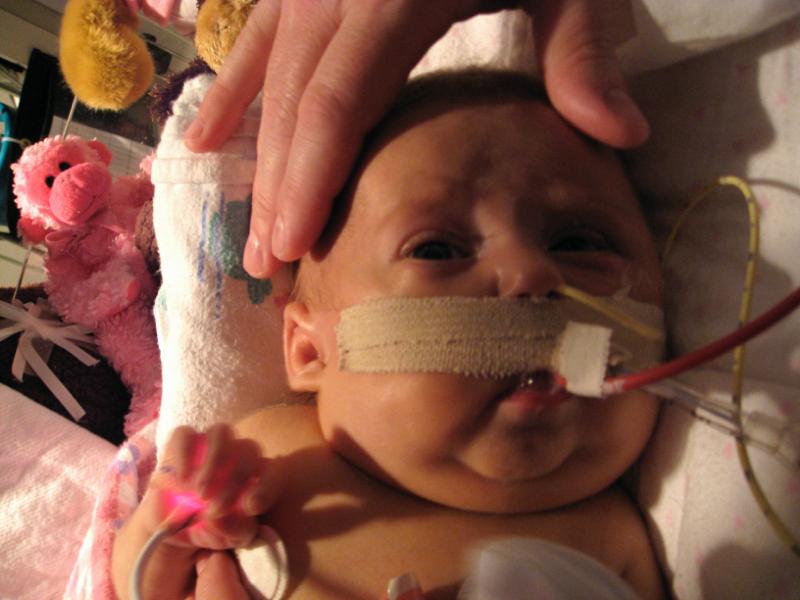 Yes, Ella turned 11 weeks old today! Wow…time has flown and yet it has gone slow at the same time.
Two of my co-workers, Katy and Pam, came to Gainesville tonight. We had a great time hanging out at dinner and then visiting with Ella. It was so nice to see familiar faces. She gave a couple of grins to each of them, and then peacefully fell asleep after all the interaction.
I am pleased to report that Ella had another uneventful day which is great news. Her two blood gases today have been good. The vent was weened slightly at 39% oxygen and 58 breaths per minute. As of 10pm, her chest tube fluid output was 8ccs. Also, her urine output was already 220. We hope that she has a restful night and can remain stable.
We are still waiting for Dr. Kays to come back in town. We are anxious to hear what he has to say about her progress and what steps he wants to try next. We think he might want to remove one of the chest tubes, to see if Ella can tolerate it (she has 3 total; 2 on the left and 1 on the right).
Through all the curiosity of what will happen next, we know that He is ultimately in control and that His timing is perfect.
Lord, we praise you and thank you for our beautiful little girl. We feel so blessed to be her parents and to be directly involved in your work. Help us to draw near to you in this time and become more familiar with your ways.
We lift up Dr. Kays and staff to you and ask that you provide wisdom and discernment for the next steps regarding Ella's care.
Lord, give us the strength to continue on this journey each day and be a testimony to you and your love for us. Help us to be joyful in hope, patient in affliction and faithful in prayer (Romans 12:12).
We thank you for all the wonderful support via our family and friends. Please bless everyone touched by Ella's story and use this experience to bring glory to your name. Amen.