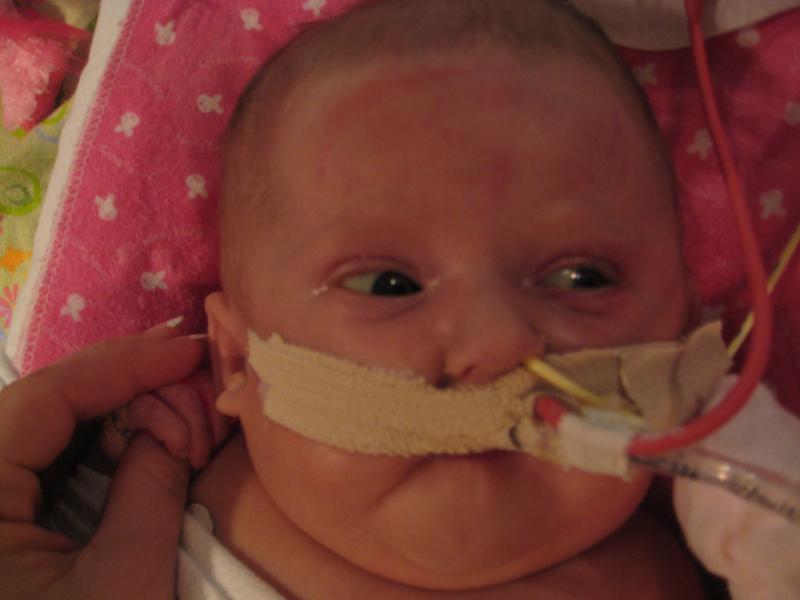 Called to check on our baby girl this morning, and found out that Andrea (one of our fav nurses) was taking care of her today.
Miss Ella bun had another good night. She was on her back until she was flipped over at 8:30am this morning. She tolerated the turn very well and didn't fuss much at all. She settled right back down and fell back asleep for nurse Andrea.
Her gases at 4am looked good: pH=7.51, cO2=37, pO2=93
How excited can you get over urine? When your daughter ouputs 320ccs, it's a good thing. That's the most she's put out in a 24hour period. Hopefully she'll keep up this trend because it should help with her edema.
She also put out 70ccs of chest fluid. This is good because it give Ella relief from it building up in her chest, but we need this to stop all together. This is the fluid issue that has plagued us for weeks now, and we just need it to resolve.
We haven't heard from Dr. Kays yet. We're curious to hear what his thoughts are on her next steps.

Lord Jesus, we praise You for this little girl. You have blessed her with such strength. We continue to pray for healing in our precious child's body. You know everything about her, because You created her. Ella is in your hands Lord. Amen.
Revelation 4:11
"You are worthy, our Lord and God,
to receive glory and honor and power,
for you created all things,
and by your will they were created
and have their being."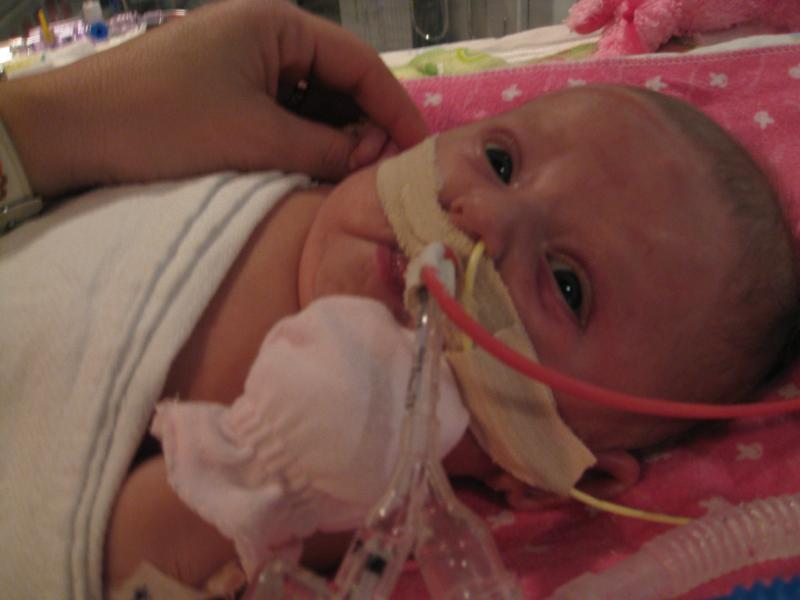 UPDATE (3:30pm EST) by Tina: Nurse Andrea called to give us an update on Miss Ella. Her blood gas at noon was pH level of 7.38, cO2=49, cO2=152, which is good. She mentioned that Dr. Kays was at Ella's bedside and handed the phone over to him.
Dr. Kays stated that her chest x-ray this morning looks better – – her lungs looked better! Also, he mentioned that the chest tubes output 70ccs yesterday and that they appear to be continuing to drain which is good.
This part we were not mentally prepared to hear: since her chest x-ray shows that her lungs were more expanded, he went ahead and scarred both of her chest cavities by inserting betadine through each chest tube. He felt it was the right timing; it was our best opportunity to use this technique. It will take 2-3 days for us to really assess whether the chest wall scarring really makes a difference in solving the fluid issue.
He mentioned that he is going to follow-up with radiology on the contrast x-ray of her SVC, but has not received any information so far. He thinks that her overall adema and puffiness is simply related to the fluid issue as a whole; not that anything has changed with the status of her SVC.
Also, he mentioned that Ella was having some funny movements around her mouth today. So, they increased her versed and phenobarbital doses. He is not sure if it was seizure activity, but it likely may have been. Until today, they had not increased her dosage of either of the anti-seizure meds, so it is likely that she has outgrown the dosages.
We were excited to think that maybe since she had gone this long, that she might not need the increased dosage of the anti-seizure meds or maybe not need them at all. I guess only time will truly tell.
Lord, we are trusting you with all the details.
Psalm 9:9-10
9 The LORD is a refuge for the oppressed,
a stronghold in times of trouble.
10 Those who know your name will trust in you,
for you, LORD, have never forsaken those who seek you.