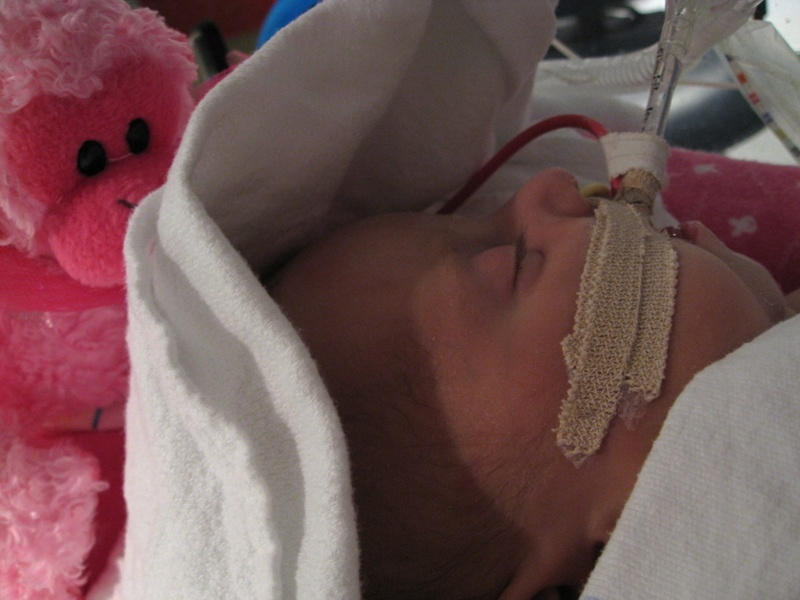 Actually, I really think Mom knows best, but as you may be able to tell by the picture above, I think Ella has her daddy's nose. Yup, that looks like a Josh schnoz to me. =)
The parents are feeling content this morning because Ella had another good night (that's 4 in a row). She was stable and slept well.
Her gases looked good at 9:30am (pH=7.42, cO2=46, pO2=64), and her fluid output for the 24 hour period was positive too (urine=278ccs, chest fluid=55ccs).
Dr. Kays has not been in to see Ella yet, but we're looking forward to hearing about her latest x-ray. Hopefully the reduction in chest fluid output (15ccs less than yesterday) is related to a true fluid reduction, as opposed to clogged catheters or fluid accumulating in other areas.
The nurse that has her today just finished giving her a sponge bath, and cleaned her neck and other crevasses that can harbor yeasty beasties. Ella tolerated the handling well which is such a good sign.
Our hearts pour out with gratitude to all of you, who continue on through this journey with us. The words that you share, and the prayers you lift up, render to us great strength and encouragement.
We are incredibly blessed by all the support.
Father, we thank you for another day with this beautiful girl. We praise you in all these things, and through this entire journey declare the love of our Lord Jesus. We know your are with us every step of the way. Bless those who have been touched by Ella's story, and draw them closer to you. We affirm these words in your Holy name. Amen.