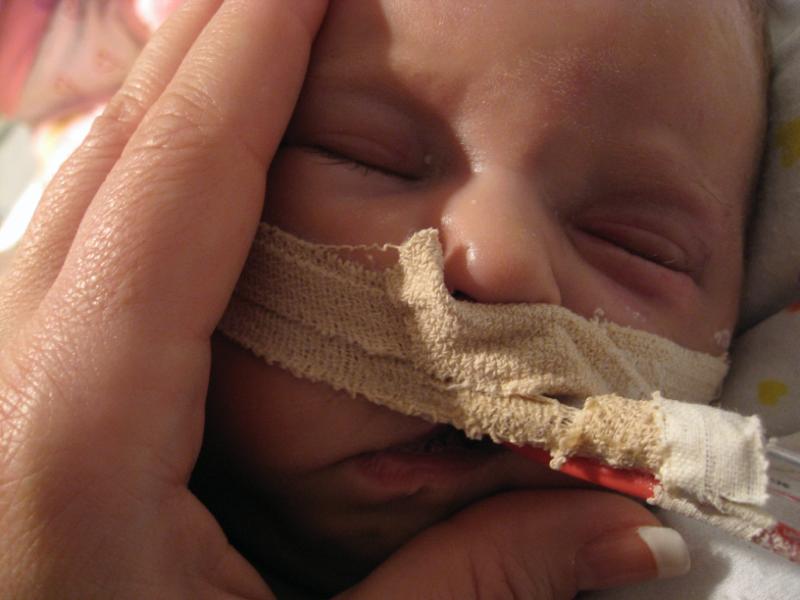 This is another day that the Lord has made. We will rejoice and be glad in it.
It is amazing to look back a week ago and see where our baby girl has been, and where she is now. Seven days ago Ella was dancing on the edge of a razor, looking over the edge of a cliff, or flying only 100 feet above the ground. Whatever analogy you use, they still represent the same perspective: Our baby girl was not in a good place medically speaking.
BUT
From a spiritual perspective, God had us right where He wanted us. There was no other hope except in our Saviour. Our only choice was to look to Him and trust in Him completely. We praise God for drawing us so close to Him during that time, and for continuing to do so this week.
What a difference this week has made! Ella has continued her stable track forward over the last 6 days. She had another uneventful, restful night.
Her saturations have been in the high 90's / 100's and her blood gas at 11am this morning looked real good: pH=7.49, cO2=39, pO2=109
Her Fi02 has stayed the same over the last couple days (44%). The only vent change made was to reduce her breaths per minute down to 68.
Our girl is creating a lot of secretions in her lungs which is requiring more suctioning. The good news is the nurse has been able to perform one quick pass on Ella without even waking her up!
Ella's food has increased another cc per hour, up to 7ccs now. She's still peeing great (270ccs last night, woo hoo!) and her chest fluid output has been going down, hopefully for good (33ccs yesterday).
Dr. Kays has been out of town for the last couple days so no big changes should be taking place. We're all good with the sloooow steps, but in the right direction.
Tina and I have had a restful weekend so far. We're looking forward to having some of Tina's co-workers visit Tuesaday night, and we're excited to have Uncle Rick and Cousin Megan joining us for a few days later in the week.
We thank the Lord for His continuous presence. May his Grace, Mercy, and Love be with all of you.