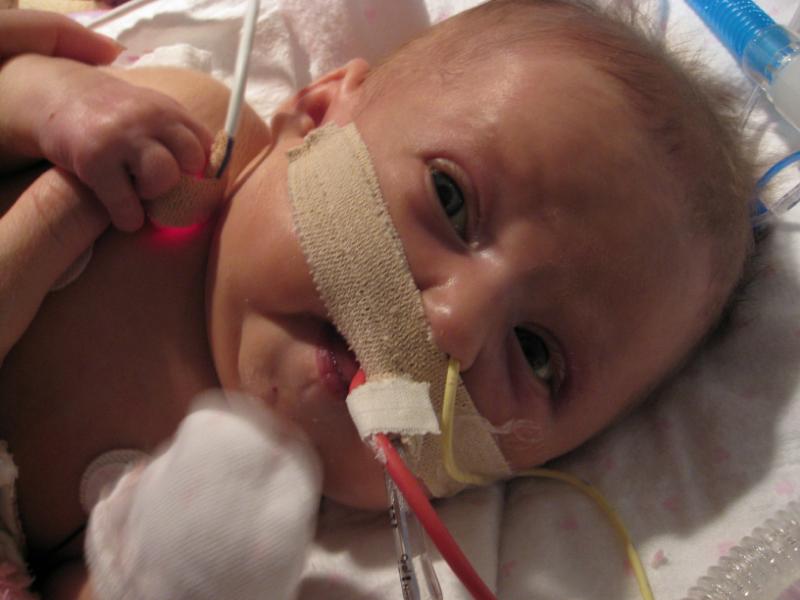 We don't want to take this "routine" for granted, but Ella is still trekking on a good path. She did get fussy a couple times last night for Nurse Janet, but she was able to calm our girl down without using any fentanyl (just a boost of oxygen and a calming touch).
Ella was wide awake from 5am through her morning assessment at 8am. She behaved very well for the day nurse on shift during this time, and she's continuing to do so today.
Her stats continue the positive trend too. Her saturations are hovering around 100% with blood gas numbers that looked like this at 6am: pH=7.42, cO2=44, pO2=89. Ella's maintaining good urine output (275ccs) and her chest tubes only put out a total of 23ccs for the 24 hour period.
We didn't get any official word on her x-ray yesterday, but there is no x-ray scheduled for today. So, I'm assuming they may not be too concerned considering our baby girl's overall good behavior.
Her feeds have been bumped up again to 9ccs per hour. With this increase, they were able to reduce some of the other nutrition she's been receiving intravenously.
They also discontinued one of her antibiotics. She still has a couple others going through her system though.
No sign of Dr. Kays today, so maybe he's out for one more day. We're looking forward to getting his thoughts upon his return.
Our journey is still far from over, but we will relish these quiet times.
Thank you Lord for your peace.