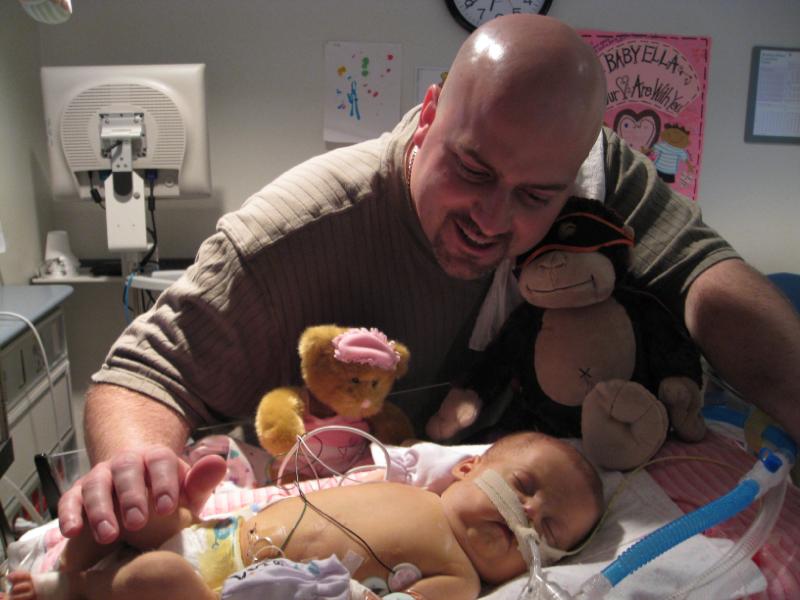 Ella Renae continued her good streak through the weekend and is doing really well today. She's done a lot of solid sleeping over the last 48 hours, even in positions that we wouldn't think she'd tolerate. Nurse Kelly has done a great job at making her comfortable on her right side, and on her belly with her head turned to the right! We were glad to see her sleeping so soundly in these orientations.
When we called today, Ella's good behavior was confirmed with her blood gas numbers from 8am this morning: pH=7.42, cO2=52, pO2=106. The number of breaths on her vent was weened down to 30 breaths per minute.
What she said next took us a bit off guard. Ella had the two chest tubes in her back removed at 9am today! Uhhh…what? Yes, Dr. Kays looked her over and felt that is was time to do this because only the large tube in her left side was still draining a little.
We were both surprised to hear this, and the look on Tina's face confirmed a bit of nervousness too. The last time Ella was pushed to only one chest tube, she went spiraling down a not so good path, but we don't anticipate this happening this time.
This is a good thing though and a necessary step on the road to recovery. We can't be sending our girl off to school with a couple chest tubes, even as cool as the other kids might think it is. Another big positive is that it reduces the number of areas for possible infection.
We hope to speak to Dr. Kays today and hear what his plan is for the coming days.
Standing next to our girl yesterday, looking at O2 saturations pegged at 100%, it really hit me how far she's come. We praise our Heavenly Father for continuing to bless us, and for the strength and health He's given Ella Renae. We don't know for sure how long our journey will continue in Gainesville, but every day we are trusting our Lord to guide our path.
Thank you for walking, and for being on your knees with us through this journey.
p.s. Thanks go to teachers and all the children who helped make the "Love Letters for Ella" and "Baby Ella" poster. We have the letters at home and made a copy of the cover to put on her wall.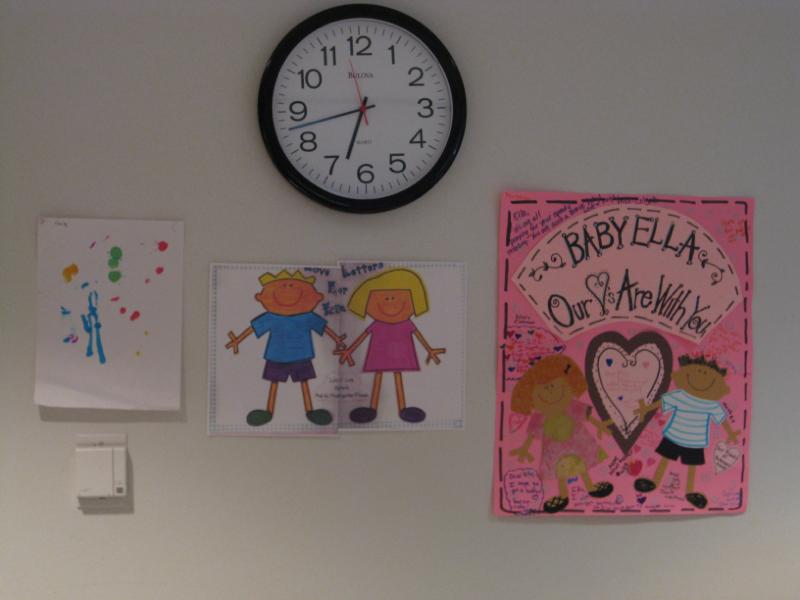 UPDATE (11:10pm EST) by Tina: We just came home from the hospital. Ella looked great.
While we were there, they took another blood gas. It was pH level=7.41, cO2=52, pO2=108. Dr. Kays had left orders that if her cO2 was over 50, to ween the vent. So, around 9pm tonight, the breaths per minute was weened to 26 breaths per minute.
They will take another blood gas around 4am and a chest x-ray in the morning. These two factors over the next couple of days will really demonstrate if the fluid issue has resolved.
We will rest tonight knowing that she is in His hands and look forward to getting an update in the morning. We hope and pray for the best!
Thank you for all your prayers!