Ella had a good day. It was fairly typical for her except that she went back to the NICU…this time, it was for a celebration.
We hung out on the conference room for about 2.5 hours. During that time, we were able to connect and visit with many of the nurses and respiratory therapists that cared for Ella. We even had a chance to see our two favorite NICU receptionists. Although they did not take care of Ella directly, they greeted us every day at the front desk of the NICU.
It was nice to see familiar faces. Honestly, it is strange to think that the most familiar faces for us in Gainesville are those from the NICU.
We bought a tasty cake to celebrate and thank the NICU staff. I'm so glad that we were able to stop by one last time for a visit. It confirmed what we already know: Ella is a miracle girl. We know it each day by looking at her priceless smile, but it was confirmed by many of the staff. Although it has only been a few months, they confirmed that Ella is looking good and on the right track.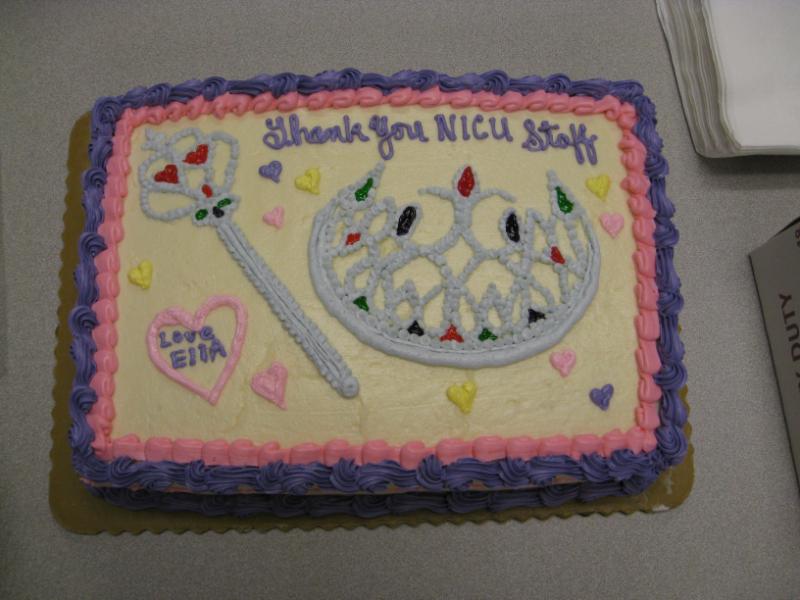 Josh has one more day in Gainesville before heading out to Colorado early Saturday morning. Ella and I are going to miss him so much!
Please pray for safe travels with good weather during his trip with Doug and the cats. I will be updating the blog when I hear from him throughout the day. Also, we still have quite a bit of work to do to get ready to move. Pray that we get it all finished!