Let the day begin…Our friend Kerri came to pick up Josh and Doug this morning to transport them for a much-needed cup of java and to take them to the airport.
Josh and Doug should be landing in Orlando around 3:30pm EST. We are praying for a safe and uneventful flight.
Here in Gainesville, we are trying to entertain the Bun and pack the rest of our stuff!
UPDATE 2:30pm EST: Well, the sweet lady came to pick up the crib…and she brought Ella a small gift. She gave her these cute John Deere socks, so we won't forget Florida!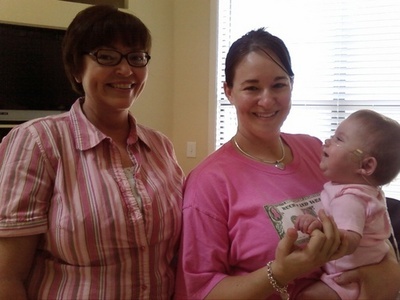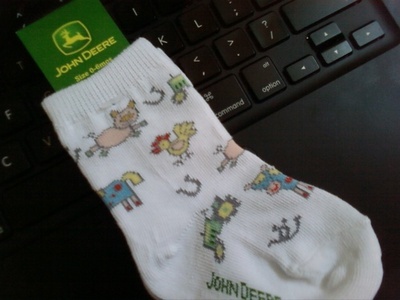 It was really nice of her. She also opted to purchase Ella's swing. This was great for us because there will be limited room in the mini-van driving back to Colorado.
Ella has been watching videos today and hanging out with Jeanie while Mom continues to pack. One of her favorites is "Baby Signing Time" – – she gets really excited! Here are some photos that capture the moment:
UPDATE 4:30pm EST: Josh and Doug landed safely and have started driving back towards Gainesville, a 2 hour drive. Before they left Orlando, Doug had to stop and kiss his wife and girls. Josh didn't mind the hugs either!
UPDATE 7:15pm EST: The boys made it to our apartment in Gainesville and we have celebrated by eating a pizza for dinner! Now, we are off to do more packing…